Convening in person for the first time since January 2020, Foster America staff, fellows, and alumni joined alongside a group of child welfare changemakers from across the country recently.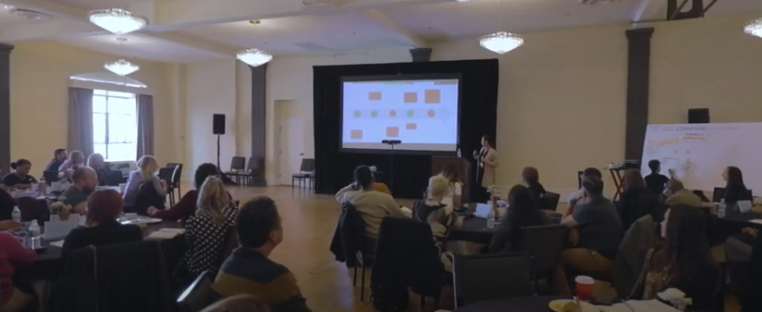 Government leaders, community advocates, and others working to transform the child welfare system spent two days in Denver, Colorado in mid-October sharing their knowledge of what policies and practices work to support children and families, along with their dreams for what a system that prioritizes wellbeing could look like.
The convening began with Tipping Point CEO Sam Cobbs encouraging all 60+ attendees to dream bigger, and a series of conversations around cross-sector collaboration, community co-design, and resource reform culminated in a discussion around the talent needed to move change initiatives forward.
Among these discussions, the fellows from Cohort 6 presented compelling stories of the work they did over the course of the past 18 months to better connect services for young people, help preserve kinship connections, and listen to the needs of communities.
Cohort 6 was the first cohort of fellows to be placed in a "team" model, with some fellows focused on creating stronger supports for older foster youth, others focused on prioritizing kinship care, and still others working on place-based initiatives to create better connections between government and community needs. Learn more about the team model here.
After graduation, many fellows will continue on in their placements, while others are continuing to pursue community-focused, and others in philanthropy. All, however, will join the strong network of over 60 Foster America alumni who continue to use their leadership skills and connections to advance transformation for child and family wellbeing.